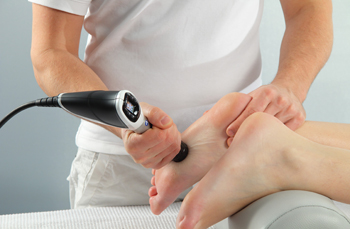 EPAT, also known as Shockwave Therapy (ESWT), is an FDA-approved, highly effective, non-surgical treatment for acute and chronic heel pain.
Extracorporeal Pulse Activation Treatment (EPAT), also known as Shockwave Therapy (ESWT) is the most advanced and highly effective non-invasive treatment method cleared by the FDA and is typically used to treat the pain associated with heel spurs, Plantar Fasciitis, Achilles tendinitis and other foot & ankle conditions.
Accelerate Healing With Pressure Wave Therapy
It is typically used to treat the pain associated with heel spurs, Plantar Fasciitis, Achilles tendinitis and other conditions.
Millions of patients worldwide have found relief through EPAT and over 80 percent report less pain or no pain after EPAT treatment.
How EPAT works
A podiatrist directs low-frequency sound waves, also known as shock waves, at the injured area through a hand held applicator. The shock waves penetrate deep into the soft tissues, stimulating blood flow, accelerating the body's natural healing process. There are generally 3 treatments over 3 weeks needed in our office, each lasting approximately 15 minutes.
The benefits of EPAT
No anesthesia
No side effects
No incision means no risk of infection
No hospital stay
Faster healing
Immediate weight bearing
A return to normal activity within 24-48 hours.
EPAT Additional Reading

EPAT Patient Brochure

EPAT Frequently Asked Questions
EPAT THERAPY FAQ's
What is EPAT?
EPAT is an acronym for Extracorporeal Pulse Activation Technology (extracorporeal means "outside the body"). It is a highly effective, non-invasive, office-based treatment that accelerates healing of injured tissues. EPAT has a proven success rate equal to or better than other treatment methods, including surgery, without the risks or long recovery. It is performed in our office without the need for anesthesia.
How does EPAT work?
EPAT utilizes a unique set of acoustic pressure waves delivered through a special applicator focused on the site of pain or injury. These pressure waves stimulate the metabolism, enhance blood circulation, and accelerate the natural healing process.
Is EPAT safe?
EPAT is a safe, FDA-approved treatment with virtually no side effects. It has been used to relieve the pain of millions of patients worldwide.
What conditions can be treated with EPAT?
EPAT can be used to treat many painful soft tissue injuries, Including Plantar Fasciitis, Achilles tendonitis, acute and chronic muscle pain and other conditions.
When will my heel pain subside?
Most patients will experience heel pain relief after 3 treatments, but some patients report immediate pain relief after only one treatment. Over 80% of patients report less heel pain or no heel pain after EPAT therapy. Treatment sessions take approximately 15 minutes per injured area, but may vary depending on the injury. Usually three treatment sessions are necessary and are performed once every 7-10 days. If you are improving after the first three treatments but are not yet pain-free, up to 5 treatments may be necessary.
How is EPAT performed?
Ultrasound gel is applied on the skin of the area to be treated. The pressure waves are then delivered using a special applicator tip which is moved over the injured area.
What are the possible side-effects of EPAT?
EPAT is a non-surgical treatment with virtually no risks or side effects. In some cases patients may experience some minor discomfort which may continue for a few days and/or the skin may become bruised or red after treatment.
Is EPAT safe for pregnant patients?
EPAT has never been tested on pregnant patients, so EPAT is best avoided by expectant mothers. If you are a new parent, you should wait to be treated for at least 3 months after delivering your baby, as your foot pain may subside after weight loss and when your hormone levels return to normal.
What are my aftercare instructions?
All patients receiving EPAT therapy should avoid all anti-inflammatory medication for at least two weeks prior to the procedure and four weeks afterward. This includes over the counter medication such as Ibuprofen (Advil, Motrin), Naproxen (Aleve) and aspirin. Your doctor will provide you with detailed aftercare instructions.
Who should not have EPAT?
EPAT should not be used in patients who have deep venous thrombosis or malignancy. It is also best to avoid the procedure if you are taking blood thinners.
Will my insurance pay for EPAT?
Unfortunately, insurance companies do not pay for EPAT.