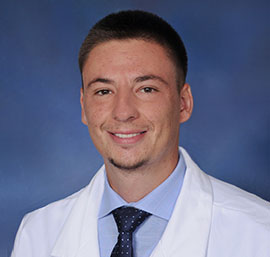 Alexandru Onica, DPM
Alexandru Onica, DPM is a highly skilled podiatric physician and surgeon.
Dr. Onica completed his undergraduate studies at Florida Gulf Coast University in Fort Myers, graduating in 2015 with a Bachelor of Science in Biology, and a minor in Chemistry. Medical school followed at Temple University School of Podiatric Medicine, where Dr. Onica graduated with a Doctorate of Podiatric Medicine in 2020.
Dr. Onica is a member of the American Podiatric Medical Association and the American College of Foot and Ankle Surgeons. He is certified in Basic Life Support (BLS) and Advanced Cardiovascular Life Support (ACLS), and has been involved in various research projects, papers and lectures throughout his career.