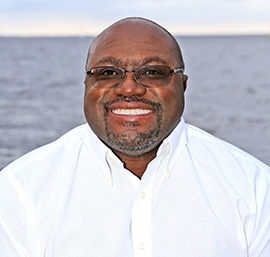 Andre Williams, DPM
Andre Williams, DPM FACFAS is a board certified podiatric physician, surgeon, and wound care specialist who has been in practice since 2005.
Dr. Williams completed his undergraduate studies at Florida A&M University in Tallahassee, FL where he earned his BS in Biology. He then attended Barry University School of Podiatric Medicine in Miami Shores, FL where he received the Dean's Scholarship and was on the Dean's Honor List while working towards earning his Doctorate of Podiatric Medicine (DPM) degree in 2002.
After graduating from podiatry school, Dr. Williams completed a Foot & Ankle Residency at South Miami Hospital under directors Jason Hanft, DPM & Keith Kashuk, DPM.
Dr. Williams is a member of several professional podiatry organizations and is affiliated with several area hospitals—including Bayfront Health Punta Gorda (Formerly Charlotte Regional Medical Center), where he has been serving as the Chief of the Medical Staff since 2014.
Publications & Research
Hanft JR, Temar KL, Williams AM -Indirect Benefits of Tissue Replacements Justify Cost. - Biomechanics 9 (12) 2002. Pages 45-50
Temar KL, Warren WJ Kyramarios D, Williams AM - Diabetic Foot Infections: Identification and Treatment. - Podiatry Management. June/July 2003. Pages 83-94
Hanft JR, Williams AM, Kyramarios D, Temar KL - Tissue Replacements are Cost Effective. - Podiatry Today. July 2003. Pages 66-70
Mist Ultra-Sound Therapy for the Treatment of Diabetic Foot Wounds. - Research Assistant 2003
Advanced Tissue Science/Dermagraft Venous Phase 2 Clinical Trials. - Research Assistant 2002
Professional Affiliations
American Podiatric Medical Association, 2002-present
American College of Foot & Ankle Surgeons, Fellow, 2003 to present
American Board of Podiatric Orthopedics & Primary Podiatric Medicine, Board Qualified, 2003
Florida Podiatric Medical Association, 2005-present
Charlotte County Podiatric Medical Association, 2005 to Present
Charlotte County Medical Society, 2005 to present
Hospital Affiliations
Fawcett Memorial Hospital, Port Charlotte, FL
ShorePoint Health, Port Charlotte, FL
ShorePoint Health, Punta Gorda, FL
Gulf Pointe Surgical Center, Port Charlotte, FL
Certifications & Licensures
Certified Wound Care Specialist by the American Board of Wound Management
State of Florida #PO 3153
ShorePoint Health Punta Gorda (Formerly Bayfront Health Punta Gorda) - Chief of the Medical Staff, 2014 to present - Vice Chief of the Medical Staff, 2011 to 2013 - Secretary/Treasurer of the Medical staff, 2009 to 2011 - At-large Member of the MEC, 2008 to 2009 - Chief of Surgery 2007 to 2008
American College of Foot and Ankle Surgeons, Division 5 - Vice President 2014 to present - Secretary/Treasurer 2013 to 2014
Charlotte County Podiatric Medical Association - President, 2012 to present - Vice President, 2010 to 2012 - Secretary/Treasurer, 2008 to 2010
Charlotte County Medical Society - Vice President of the Board of Directors 2015 - Secretary/Treasurer of the Board of Directors 2014 - At-large member of the Board of Directors 2012 to 2013
Florida Podiatric Medical Association - Chief of the President's Council 2014 - Treasurer 2016
Dr. Andre Williams is available for appointments at: