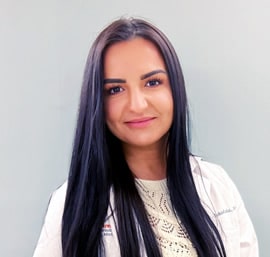 Aneta D. Sokolowska, DPM
Aneta D. Sokolowska, DPM is a highly skilled, board-qualified podiatric physician and surgeon.
Dr. Sokolowska completed her undergraduate studies at Rutgers University in New Brunswick, NJ in 2015, earning her Bachelor of Arts in Biological Sciences. She then attended New York College of Podiatric Medicine in Manhattan where she graduated with a Doctorate of Podiatric Medicine in 2020. Her postgraduate training included a Reconstructive Rearfoot and Ankle Surgery residency at Hoboken University Medical Center, where she served as Chief Resident.
Dr. Sokolowska is Foot qualified and RRA qualified with the American Board of Foot and Ankle Surgery. She is also certified in Internal Fixation, Basic Life Support and Advanced Cardiac Life Support.
Dr. Sokolowska is a speaker at symposiums on Advanced Wound Care, has done extensive research on a variety of topics pending publication, and her investigation on therapy dogs assistance in special needs classrooms was published in 2016.